Sometimes you hear a business owner's story and you just know their business was meant to be. That's what happened when I sat down with Anika Esposito on a recent visit to her brand new, second location of Love at First Sight Ultrasound in Amesbury, MA.
Love at First Sight Ultrasound is the first full service 3D / 4D / HD ultrasound studio on the North Shore, providing elective, non-medical ultrasounds at both their original Danvers location (140 Commonwealth Avenue Suite 101) and now at their second location in Amesbury (77 Macy Street).
Anika formerly had a career at General Electric. When she and her husband were trying to grow their family, she experienced two miscarriages before the birth of their first child and another before the birth of their second. When she was pregnant with her first daughter, Aria, they were constantly nervous about losing the pregnancy and were only able to see her by ultrasound twice at the doctors. Anika was able to do an elective 3D/4D ultrasound in Boston, which provided them some comfort through the remaining months before birth. After that experience she knew she needed to help other local moms-to-be who were seeking peace of mind throughout their pregnancies. She did extensive ultrasound training and her business was born.
Anika and her husband are proud parents to Aria who is 5, Carmela who is 2 and Dominic who is a year old. Learn more about their family in Anika's recent Meet a Mom Interview. As a mom, she knows there is nothing better than seeing and hearing that little heartbeat for the first time!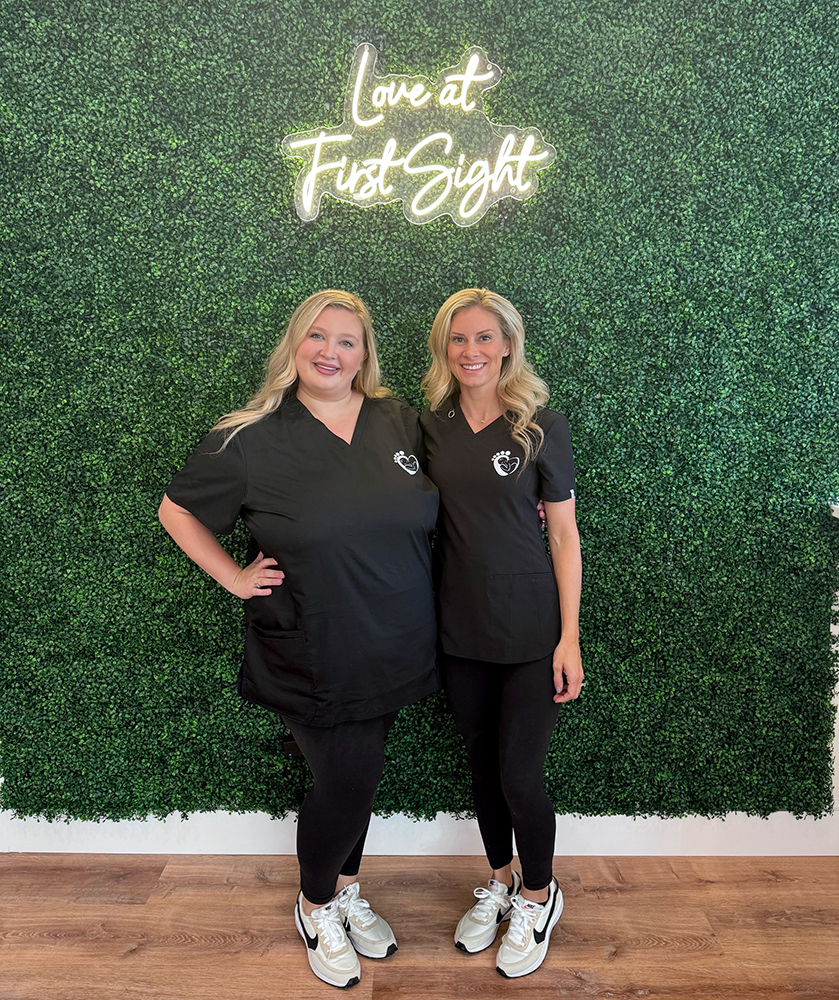 At Love at First Sight Ultrasound, you'll be greeted by Anika or one of her family members when you arrive for your ultrasound visit. Her staff is made up of her husband, mother-in-law, sister-in-law (Sarah Esposito–who I also had the pleasure of meeting), aunt, sister, and niece. It's truly a family affair!
You are able to bring as many family members as you want to the ultrasound appointment. The scan room has ample comfortable seating and even a play table for big brothers and sisters.
The ultrasound will be broadcast to a large screen TV where the whole family can hear the heartbeat and see the baby moving around. Sarah or Anika will work to show different angles, and capture some photos for you to cherish at home.
They also record the heartbeat and save it to a device that can be added to one of their adorable Heartbeat Animals.
As soon as moms-to-be are 6 weeks pregnant, they can come in for their first visit to have blood work done and confirm the gender of the baby. This blood work is sent out overnight and results are typically available the next day.
At the 8 week mark moms-to-be can come in for an ultrasound to typically see the flicker of the heartbeat. Then at around 15-18 weeks you are able to obtain full body pictures and sometimes see the baby turn and move. Around the 26 week mark a 3D/4D ultrasound can be performed where you can see what the baby looks like. Gender testing and ultrasound packages start at $59.
Love at First Sight is also a proud partner of Enfamil and each mom-to-be that comes in for a 3D/4D Ultrasound will receive one of these fun diapers bags filled with formula samples and coupons.
The day I was visiting, Britni Kelleher came in for a scan and I got to witness her experience first-hand. (Thank you Britni!) She is expecting a beautiful baby girl in February and this was her second ultrasound of this pregnancy at Love at First Sight. She also brought her son, Brooks, with her and he tested out all the toys and the play table.
The new location in Amesbury is now booking clients for appointments beginning on November 6, 2023. In addition to their regular services, they also have an adorable children's boutique that will be expanding as they settle into the location.
Learn more about Love at First Sight Ultrasound at loveatfirstsightultrasound.com, follow Anika and her team on Instagram @loveatfirstsightultrasound and on Facebook @loveatfirstsightma.
…
This post is sponsored by Love at First Sight Ultrasound, but the opinions present are my own.