I recently spent a sunny morning in Salisbury, MA, checking out the newly opened Salisbury Beach Carousel. If you're a North Shore native, you may be thinking, "new?" More than 100 years ago Salisbury Beach's first carousel entertained generations of local families and summer visitors to Salisbury. Over the years the visitors stopped coming and the original carousel was sold and relocated.
In recent years, The Salisbury Beach Partnership has been working to revitalize Salisbury Beach. In 2019, they continued this effort by starting the project that would return a beloved carousel to Salisbury Beach Center. They secured the land for a new, post and beam, pavilion-style building on the Broadway Mall and found and purchased a rare, Coney-Island style, 114 year old, antique carousel, built by W.F. Mangels, one of the most famous carousel builders of all time.
The antique carousel had operated for many years at an amusement park in Harvey's Lake, Pennsylvania, and later in Florida. After the Partnership purchased the carousel in 2019, the mechanical elements were sent to be fully refurbished, and last summer was installed in the new Pavilion along with the 44 carvings that were polished up and given new tails (made from real horse hair).
On June 30, 2023, the Salisbury Beach Carousel reopened to the public. From Memorial Day to Labor Day the carousel operates 7 days a week from 12-9pm, and 12-10pm on Fridays and Saturdays. Take a ride and then walk down to Salisbury Beach to enjoy the weekly, Saturday night fireworks!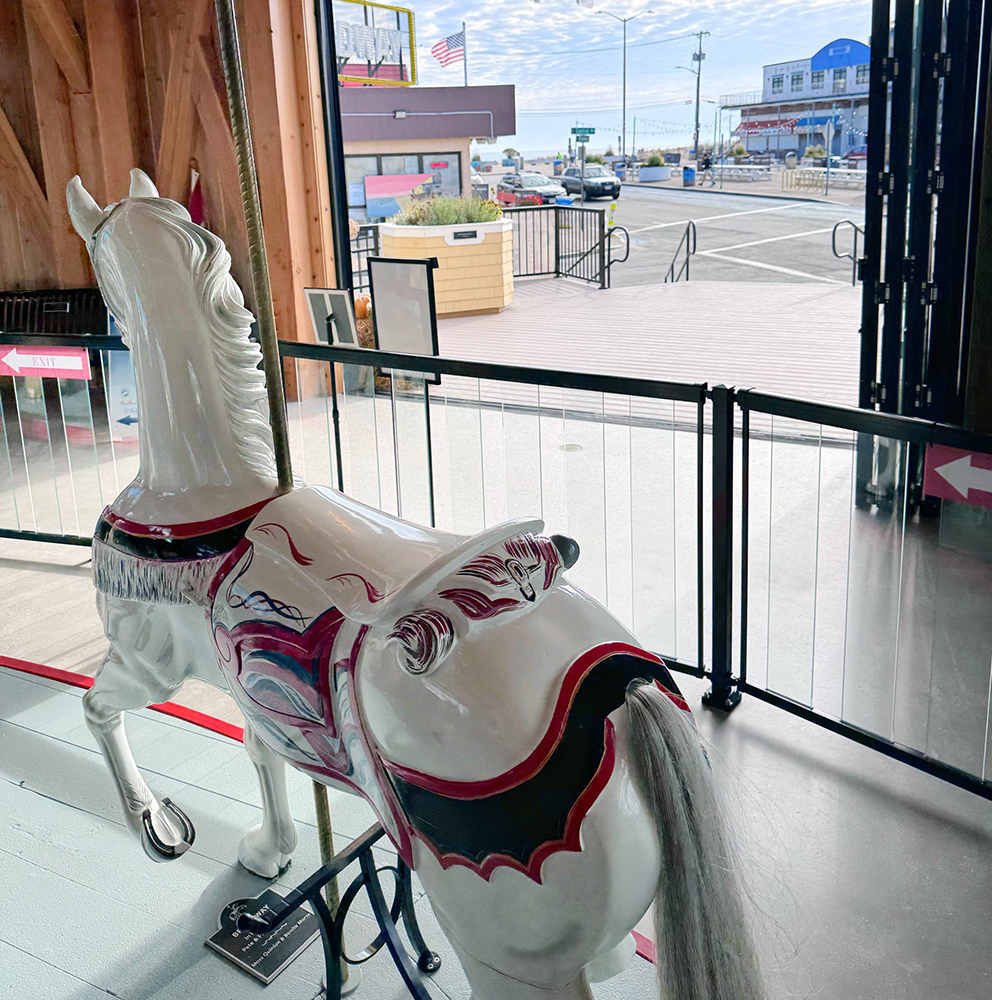 The rest of the year the carousel is open on weekends from 4-8pm on Fridays, 12-8pm on Saturdays and 12-6pm on Sundays. The carousel is completely enclosed in the pavilion, so it can offer family fun, regardless of the weather. Though on sunny days, the large glass doors slide open and you can glimpse the beach as you ride.
The carousel is also open for 90-minute birthday party intervals, 7 days a week, all year long. Choose from a private facility rental from 10:30am-12pm, or a 1-2:30 or 3:30-5pm rental. The Carousel Pavilion includes a private room with sliding glass doors that open to the carousel. It can comfortably seat 50 people (which is also just about the amount of people that can ride the carousel at one time). Party goers get unlimited free carousel rides!
There is also a large screen TV in the room that is outfitted with Zoom, for meetings or to include out-of-town grandparents in your child's birthday festivities. For other events you can rent the room for 4 hour intervals. For parties you must arrange your own food (made in a Serve-Safe environment–no homemade cupcakes) but the carousel is located just down the street from 2 famous beach pizza shops (Cristy's & Tripoli) and next to Capri for more upscale catering options.
The carousel is also neighbors with Joe's Playland (an arcade) and Wiley's Scoops & Sweets. Plus it is just steps from the sun and sand of Salisbury Beach. Perfect for an afternoon or evening of family fun!
Save the Date! From November 18 to December 3, 2023 you can visit the Sea Festival of Trees at the nearby Blue Ocean Event Center and take a spin on the Carousel afterward.
I had the pleasure of both riding the carousel (during closed hours, so I had my pick of the horses!) and meeting with Amy Moore, the Director of the Salisbury Beach Carousel. Amy is very passionate about bringing families back to Salisbury Beach and gave me a wonderful tour. Contact Amy, at [email protected] to book your next birthday party or event.
Find out more about The Salisbury Beach Carousel at salisburybeachcarousel.org and follow them on Instagram @sbcarousel and Facebook @sbcarousel.
…
This post is sponsored by The Salisbury Beach Carousel, but all opinions present are my own.