When Boye "Bibi" Asenuga reached out to me to share that her fashion brand ChicNiCity was being celebrated on HSN for Black History Month, I was intrigued. After checking out her website, I knew she was a local mom that you would all want to know better! ChicNiCity is a line of ready to wear, ethnic-inspired, contemporary clothing. In addition to being a talented fashion designer Bibi is also a lawyer and has studied at both School of Fashion Design, Boston and Fashion Institute of Technology, New York. Keep reading to learn more about her designs and all of her North Shore favorites.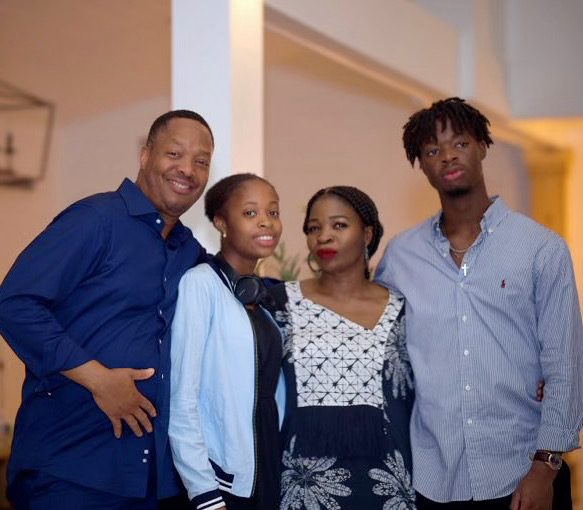 Where are you from originally and what town do you live in now?
I'm originally from Lagos, Nigeria. I live in Peabody and I moved to Peabody from Nigeria about 20 years ago after I got married to my husband.
How many children do you have and what are their age(s)?
I have 2 kids, a son who's 17 and a daughter who's 13.
What's your favorite family activity on the North Shore?
We love going to Richardson's Ice Cream in Middleton for their yummy ice cream and to play miniature golf. We also love going to the movie theater at the Liberty Tree Mall in Danvers.
Where's your favorite place to eat and/or shop on the North Shore?
Favorite places to eat on the North Shore are Davio's at MarketStreet Lynnfield and Sawasdee Thai Restaurant in Danvers.
My absolute favorite places to shop are Nordstrom Rack and Target, both located at the Liberty Tree Mall. Nordstrom Rack for all the great finds at a bargain. Target just has everything a busy mom like me needs from makeup to macchiatos and everything in between. And I love their late store hours!
Tell us a little bit about your background and how you got started as a fashion designer.
Prior to founding ChicNiCity in 2017, I studied law and got called to the bar in Nigeria, but soon realized my passion for fashion, and very quickly transitioned to pursue my passion.
While I was in college and law school, I would design and make clothes for myself and everyone loved them, so I started a side business selling clothes. Initially my parents weren't happy, because they thought it was a distraction from my studies, but when they realized that I was still keeping my good grades, they were encouraging.
When I moved to the US, I went back to school for Fashion Design at the School of Fashion Design, Boston, and later for Apparel Development at the Fashion Institute of Technology, New York.
Where do you find the inspiration for your ChicNiCity designs?
I'm inspired by my cultural and contemporary identity as a Nigerian American. Ethnic inspired colors & prints are fused with contemporary design elements and silhouettes to create inclusive, premium, wearable and versatile pieces.
Where can moms shop ChicNiCity pieces?
Moms can shop now our new and exclusive collection on HSN. I will also be presenting our collection live on HSN TV on Thursday, February 9th from 9-11am and 9-11pm. Moms can also shop our pieces on our website www.chicnicity.com we ship within 48 hours when an order is placed.
(Anyone traveling to warmer weather for February vacation should check out the gorgeous ZENZI Maxi Dress!)
What is your most cherished piece (or pieces) of clothing?
My most cherished pieces are the ABBIE Shirtdress and TORI Duster from ChicNiCity, both pieces are now available on HSN. (Styles both shown above.)
The ABBIE Shirtdress I refer to as my "goodluck dress," anytime I wear it for a meeting, something monumental happens! It's a very chic "one and done," easy to wear dress. It's multi-functional and multi-seasonal.
The TORI Duster is just that piece that makes every outfit look like a million dollars! I throw it on my gym clothes and run errands, it's a chic "airport look," works perfectly as a beach cover up, and is a great way to dress up a jeans and t-shirt look. The options are endless!
Any tips for balancing work & motherhood?
All working moms have a hard time doing this, but what works for me is setting aside time where I drop everything to hang out with my kids and give them my undivided attention. Also, when driving my kids back home from school, I always utilize that time to connect with my kids.
What is the best piece of mom advice you ever received?
The best mom advice I received was from my mom and it was "trust your gut/motherly instincts." No matter how small that nudge is from my gut/motherly instinct, I will always follow up on the nudge and most times there's something to it!
What's your favorite thing to do when you need some "me" time?
My favorite "me" time thing to do is to exercise and watch the Real Housewives on TV. I'm a typical mom, still multitasking during my "me" time!
Shop Bibi's exclusive collection for HSN or visit her website for more styles at www.chicnicity.com. You can also follow along with ChicNiCity on Instagram @chicnicityllc and on Facebook @chicnicity.