Whether you're already devoted to regular lash enhancements or just curious about how they work, this post is for you! KayLash is located in Reading, on the edge of their cute, downtown area. The business is owned and operated by a local mom of 3, Kayla Iacopucci.
(Photo courtesy of Merissa Conley Authentic Imagery.)
She has been in business, offering eyelash extensions, lash tints and lifts, facials, waxing and more for 10 years. Licensed nurse injector, Teena Pyrcz, RN of Belladonna Beauty and licensed Electrologist Patricia Crane of Elite Electrology & More share space with KayLash and Kayla can help coordinate all of their services for your visit.
(Photo courtesy of Merissa Conley Authentic Imagery.)
To say Kayla knows lashes in an understatement. She received her certification in eyelash extensions all the way back in 2009. And her spa is decorated with fun lash statements and lash-inspired retail products like these upcycled flannel shirts. The result is an overall fun vibe the minute you walk in for your appointment.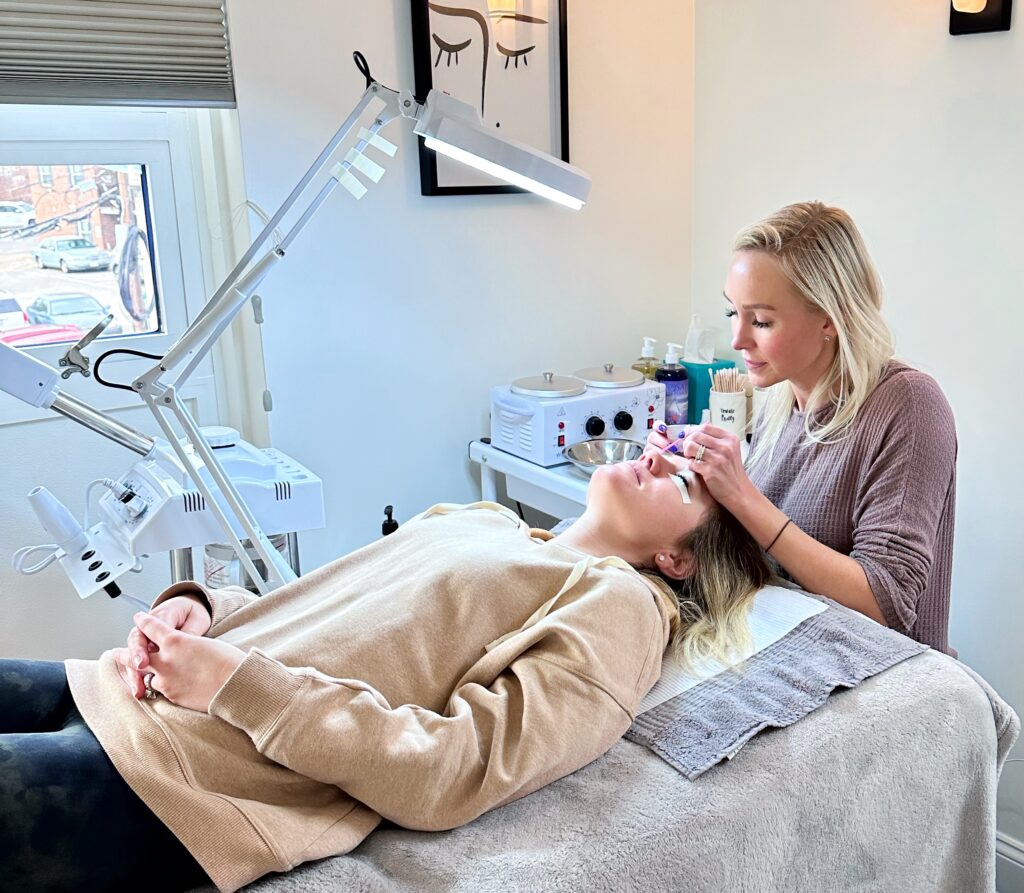 The day I came for a visit there were two services taking place that Kayla's clients kindly let me observe. I am new to lash enhancements, so I wasn't really sure what to expect. The first client was having a lash lift and tint. She was relaxing in a cozy spa room while Carissa applied the tint and then she was going to rest while the tint set. Kayla said that clients often are so relaxed during their lash services that they fall asleep…a.k.a. the lash nap.
Lash lift and tints typically last 6-8 weeks and are a great option for helping clients look more awake. If you don't want to commit to the recurring appointments necessary to keep up with eyelash extensions, this service will give you the illusion of longer lashes by lifting and curling your natural lashes from the base.
In another spa room Joycelyn was applying lash extensions for a client. Last extensions are where one individual lash is applied to each natural lash. With lash extensions you do need to commit to having them filled every 2-3 weeks, but while you have extensions you never need to worry about wearing mascara or eyeliner. Maria's client was also relaxing on a cozy table and the process seemed pretty soothing. At KayLash you can choose from Classic, Mixed, Volume and Mega Lashes!
(Carissa looking fabulous with her own lash extensions. Photo courtesy of Merissa Conley Authentic Imagery.)
KayLash offers gift cards for the holidays. You can either order online, print and wrap at home, or come to the spa for a physical gift card. Facials are also a popular service at KayLash and they carry the Image Skincare Line. Kayla can create a custom facial kit, which also makes a great gift! She went me home with this one for an at-home facial experience that I loved!
(Photo courtesy of Merissa Conley Authentic Imagery.)
When I do these visits I always ask the business owner if there is anything special they would like people to know and when I asked Kayla, I loved her answer and can't end this post without sharing it. She said, "I truly love my staff. I would never survive without them." This was immediately evident from the friendly and fun atmosphere that was present in every room of the spa. I can't imagine any client not leaving KayLash both feeling good about themselves and having had a great time!
(The KayLash Team, L-R: Joycelyn, Carissa, Kayla, Maria and Colleen. Photo courtesy of Merissa Conley Authentic Imagery.)
Learn more about KayLash at www.KayLashextensions.com and follow along with Kayla and the team on Instagram at @KayLashextensions and on Facebook at @KayLashextensions.
This post is sponsored by KayLash but all the opinions expressed are my own.