Each month in 2022, I am striving to interview a local mom who is giving back to the community in an inspiring way. I live in Middleton and have seen the blue Beantown Blankets truck driving around, but just recently learned that not only does this business make cozy blankets, they also donate many of these blankets to homeless shelters, animal shelters and the Leukemia Lymphoma Society. On top of that the company was founded by Max Perry and inspired by his mom, Shelley Cheche, who is also the current Chief People Officer. Keep reading for the full interview with this inspiring mother and son. 
Where are you both from originally and what town(s) do you live in now?
Max (M): We are originally from Southern Illinois. In 2008, we moved to North Andover and consider this part of the country our home. Currently, I live in Boston and my Mom still lives in North Andover.
This is the first time we have interviewed a mother and son who work together (so exciting!). Tell us about your family, how many siblings, pets, etc.
Shelley (S): My wonderful husband and I are recent empty-nesters, but our home is very active and full of joy with frequent visits from family, friends and neighbors. Together, we have two sons, a daughter and a Chocolate Lab named George, who is infamous for his photos with Beantown Blankets. Max added to the pack with a Golden Retriever puppy, named Frank, who will debut in future photo shoots, once he can sit still.
What are your favorite activities to do on the North Shore (together or separate)?
M: My first job in high school was at Smolak Farms, where I was manager of the Pick-Your-Own and Community Supported Agriculture program – we still love to visit during the summer and fall. We are also frequent beach goers at Crane, where my brother was a lifeguard for many years.
Where's your favorite place to eat and/or shop on the North Shore?
M: In the summer, The Clam Box and Woodman's are fantastic for seafood. We love Daniella's and Tuscan Kitchen for Italian, the Rusty Can for casual barbecue, and Strega or Capital Grille for a wonderful filet. MarketStreet Lynnfield has some amazing choices as well, with Tezmacal being my personal favorite. I am an avid griller, and you can't beat Butcher Boy for the best cuts of meat.
As a personal fashion stylist, my Mom enjoys the wide variety of stores on the North Shore to meet her clients needs.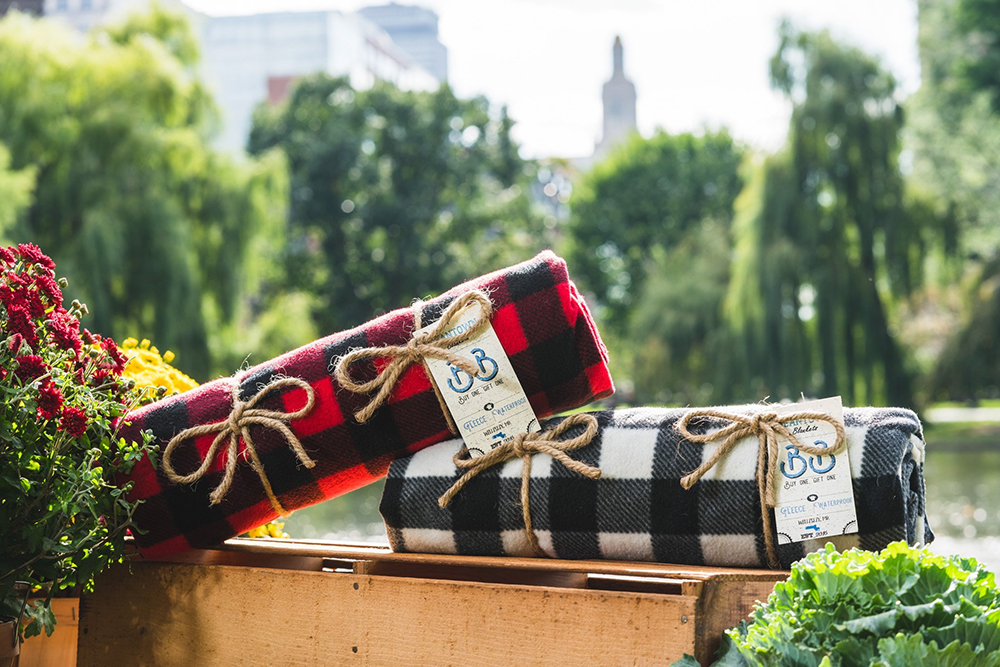 How did Beantown Blankets get started?
M: Before leaving for my freshman year at Babson College, my mom and I sat down and began brainstorming ideas; specifically one with a social mission. She has always had a passion for helping those in need. At the age of 4, missionaries visited her church in search of donation items for children. Her blanket was her most prized possession, and she decided to donate it. Ever since then, she wanted to create a donation blanket for the homeless that was fleece on one side, and waterproof on the other. The idea was to provide protection from the rain and snow. After hearing this, I realized that a blanket with a waterproof backing is also the perfect item for picnics, pets, and to keep in the car. In 2016, during a business class project, I pitched the idea to my team and we launched. We first sold the blankets outside of Whole Foods, flea markets, and to our classmates in Wellesley.
When did Shelley (mom) join the team?
M: You could say my mom was the inspiration for Beantown Blankets from the beginning, and has been a part of the team since day one. Early on, she helped brainstorm ideas as the company grew and often rolled and tied blankets with me for hours on end. Today, she is officially known as the Chief People Officer!
Do any other family members work at Beantown Blankets with you?
M: You can often find the entire family, including George, at our donation events. From blanket distribution to serving food, we work together to make the event a success. You can also find the Beantown Blankets team at our two office locations in Middleton, they handle most of the heavy lifting for our large corporate orders.
Tell us more about the blankets. What types do you offer and do you have a favorite?
M: While our picnic and sherpa blankets remain our best selling products, we recently introduced our Beantown Baby line, and custom printed photo blankets, for birthdays, Mother's Day, and anniversaries. We have also expanded our product line to include bags, and beanies as well, which are highly requested items at shelters.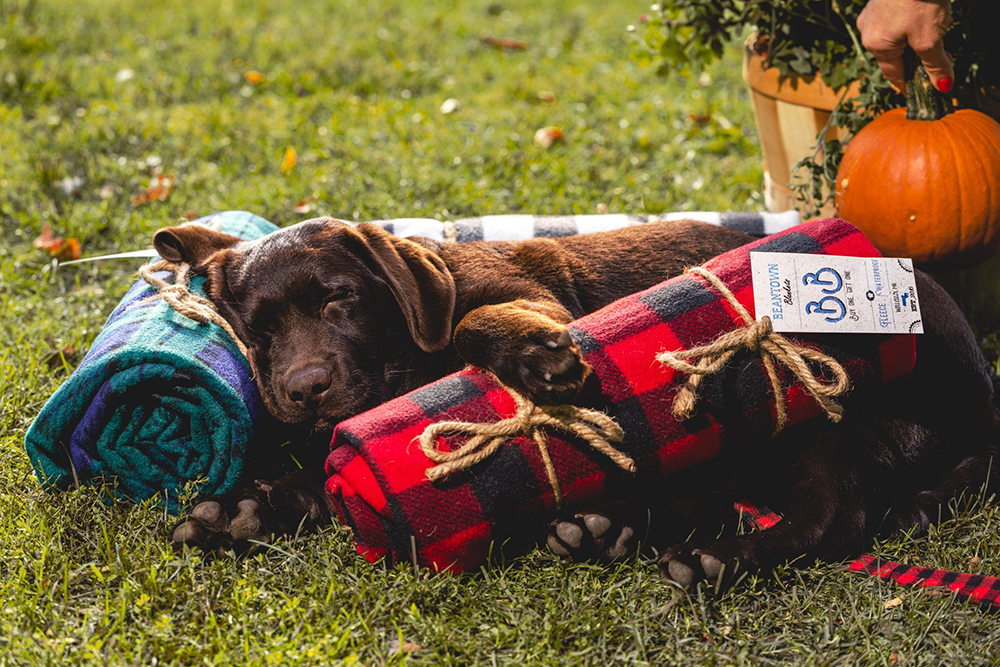 You have worked with a variety of charitable and corporate partners over the years. Can you tell us about some of these partnerships?
M: Since 2016, we have worked with hundreds of corporate clients such as Google, Amazon, Reebok, Comcast, and Delta. Our largest partnership is with Subaru, who has ordered over 85,000 blankets in partnership with the Leukemia Lymphoma Society. We have also had a partnership with the Black Dog since 2018, and our blankets can be found in all of their retail locations. Each Black Dog blanket purchased, provides another blanket to an animal shelter.
Are there any that stand out as particularly meaningful to you?
S: The partnership with Subaru has been particularly meaningful to me on a personal level. I have 2 siblings that both had non-hodgkin's lymphoma. My sister passed away from it in 2004 and my brother is now cancer-free. Seeing the impact and joy our blankets bring to those fighting cancer reminds us of how important it is to make a difference in the lives of others. I have always taught my boys that we are the hands and feet of Jesus.
How many blankets have you donated to date?
S: To date, we have donated over 200,000 blankets to shelters in nearly every state. Our goal is to reach the 1,000,000 blanket milestone by 2025.
What's next for Beantown Blankets?
M: In the near term, we are working to expand our product line and partnerships with large organizations, providing custom gifts that give back. We also would love to employ individuals in need, and have taken steps toward this when, in 2019, we hired 5 individuals from Northeast Arc.
Where can people shop for Beantown Blankets?
S: People can find our blankets beantownblankets.org or follow us on Facebook @beantownblankets or instagram at @beantownblankets.