Rescue dogs have a special place in my heart. Like many of you, my family adopted a pandemic puppy from Sweet Paws Rescue and over the last two years she has become a cherished member of our family. So when Laura Cooper introduced herself and her sea glass business, that donates 100% of the profits to dog rescues, I knew I had to feature her story. Keep reading to learn more about Laura Cooper, a Marblehead mom of 3 and founder of Wildflower Seaglass & Pottery.
Where are you from originally and what town do you live in now?
I was born and raised in Westchester County, NY and have lived in Marblehead with my husband, Rich, for the last 20 years. Trading in the countryside for life by the ocean has been a fun change!
How many children do you have and what are their age(s)?
We have 3 children: daughters Charly (17) and Sam (15), and a son Ty (12).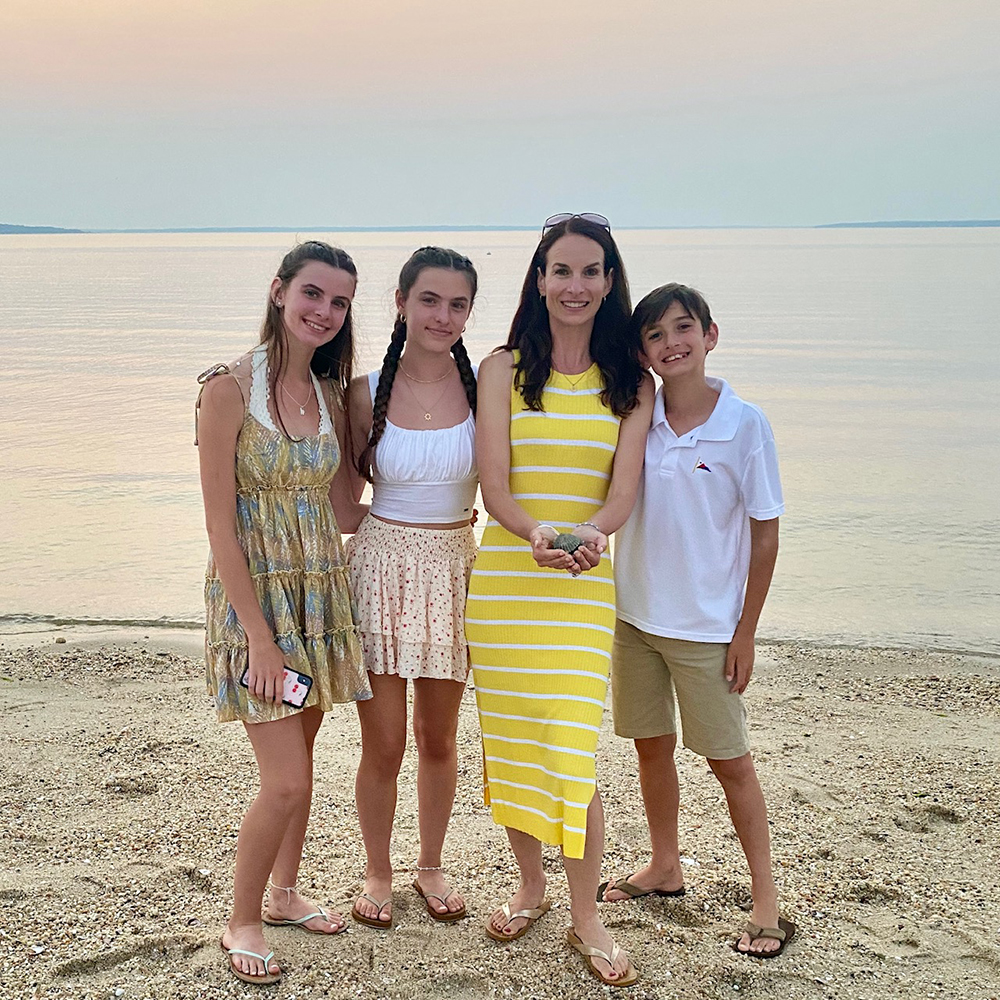 Do you have any pets?
Yes, we share our home with 3 lovable rescue dogs: all hound-mixes and one with special needs (born deaf). We love their distinct personalities and the energy they bring to the house. I also have a horse that I board in Hamilton.
What's your favorite family activity on the North Shore?
As a family, we love to take advantage of all the outdoor activities the North Shore has to offer, especially spending time on the water in Marblehead and hiking at Appleton Farms.
Where's your favorite place to eat and/or shop on the North Shore?
My favorite restaurant is Soall Bistro, located in Marblehead and Beverly. Wonderful owners, amazing food!
Tell us a little bit about your background and how you came to start Wildflower Seaglass & Pottery.
I'm a nature girl at heart. From being an equestrian, to owning a local flower shop, to taking countless outside art and photography classes, nature has always inspired me. So when the pandemic hit, daily long walks on the beach with my family were our go-to activity to recharge. Each day we would return with handfuls of genuine sea glass and sea pottery, which over a few months turned into an amazing collection with so many shapes, sizes, and colors. Too beautiful to just leave in jars, I decided to try something creative with them. By placing pieces of sea glass together like a puzzle, I found I was able to create whimsical, nature-based designs…unique, one-of-a-kind beach art. And just like that, Wildflower Seaglass was formed.
What made you decide to contribute 100% of your profits to dog rescues specifically?
There is nothing like the unconditional love from a dog…and I believe many of us came to realize that during the challenging pandemic times. Dogs are there for you, no matter what, and I knew I wanted to do something for them in return. Having volunteered and fostered with local dog rescue groups in the past, I knew how every penny donated makes a difference…from providing food, to medical care, to freedom rides from kill-shelters. So by donating 100% of my profits from my art sales, I knew I could help. I now often receive photos from rescue groups of dogs my donations have directly saved, and it has been tremendously rewarding.
What is the total amount you have donated so far and which rescues do you support?
It has been about 1 year since I began this creative, nonprofit venture, and happy to say I've donated over $11,000. I've supported some local dog rescue groups, including Great Dog Rescue New England and the Northeast Animal Shelter. In addition, I often support rescues that focus on senior dogs and those with special needs, such as Deaf Dogs Rock and Vintage Pet Rescue.
Where can people purchase your sea glass and pottery pieces?
I'm currently creating my artwork from an in-home studio, and focus on selling my pieces at area shows, including the Marblehead Festival of the Arts and SoWa Open Market in Boston. I have found customers feel good about supporting my art with heart, so I greatly enjoy the positive energy at these interactive events. In addition to shows, my Instagram page serves as my website, where I frequently post all new work, info about upcoming shows, as well as accept custom orders via DM.
What is your goal for Wildflower Seaglass & Pottery moving forward?
Moving forward I want to continue to do what I'm doing! I love the whole process: from finding the sea glass, to creating, to selling, to donating. I'm also excited to announce that Wildflower Seaglass will soon become an official 501c. This is a huge milestone for me, and couldn't have done it without the wonderful support over the last year!
Do you have any advice for other moms who are looking for creative ways to support their favorite charitable organizations?
Advice I would give is to find something you truly love to do, maybe it's baking or painting, and just put it out there. Be brave. I took a huge leap of faith by sharing my artwork, and so glad I did. I believe when you choose to live with purpose, good things will happen!
How about any tips for balancing work & motherhood?
My biggest tip would be to take advantage of those quiet moments when you get them. My three kids' schedules are in constant flux, so staying flexible on your creative time is key.
What is the best piece of mom advice you ever received?
Be truly present. Being a mom is filled with many beautiful, but fleeting moments…you have to enjoy them!
What's your favorite thing to do when you need some "me" time?
The beach! Out in nature, strolling the shoreline at low tide, and looking for beach treasures always makes me feel at peace.
Find Wildflower Seaglass & Pottery on etsy at www.etsy.com/shop/wildflowerseaglass and follow along with Laura on Instagram at @wildflowerseaglass.