I'm excited to introduce you to Kathleen Stern, a Swampscott mom of 2 and the owner of Boston Area Doulas. After a positive postpartum experience with a doula, Kathleen was motivated to become one herself. I hope you all enjoy Kathleen's thoughtful answers to the interview questions as well as learning more about the wonderfully supportive services a doula can provide.
Where are you from originally and what town do you live in now?
Originally from southern Connecticut and now I live in Swampscott! We just moved up to the North Shore from Boston in August and are thrilled to be putting down roots here.
How many children do you have and what are their age(s)?
I have two kids– Addie and Rosemary– who will turn 8 and 5, respectively in March.
What's your favorite family activity on the North Shore?
Going to the beach! My husband builds sandcastles and takes the girls swimming, and I get to watch and listen to the ocean. I love going to Devereux Beach or Phillip's Beach around dinner time, ordering pizza, letting the kids run around, and hanging out until the sun sets.
Where's your favorite place to eat and/or shop on the North Shore?
Nightshade Noodle Bar in Lynn and Sea Salt in Marblehead. I'm excited to try out some more places when the weather gets warmer again.
Tell us a little bit about your background and how you got started as a Doula.
I spent the last 15 years teaching (middle school) and coaching teachers. Along the way, I had my two kids. My postpartum experience with my first child was filled with exhaustion, self-doubt, and conflicting advice from well-meaning family and friends. So during my second pregnancy, I hired a postpartum doula to provide me with the nonjudgmental, hands-on support I knew I would need. The immeasurable value, and the juxtaposition between my first and second experiences, prompted me to become a doula. It became crystal clear that supporting and educating families as they birthed their babies and found their way as new parents was ultimately what I was put here to do.
When did you start Boston Area Doulas?
December 2020. Nothing like the depths of a pandemic to nudge you to make your dream a reality!
What are some of the ways your services can support new parents?
As a birth and postpartum doula, my goal is to remind parents of their strength, to instill confidence and to reduce fear. I do this by being physically present, emotionally attuned to and available for parents, and equipped with evidence-based information and resources to help parents navigate anything that comes up along the way. I also offer private classes on childbirth and labor, newborn care, and infant feeding and consultations on feeding, creating a birth plan and navigating the postpartum period.
In addition to me, we have a small and mighty team of birth doulas and postpartum doulas who support people across the North Shore and Greater Boston area.
Part of my role is also mentoring other people who are curious about becoming a doula. I love talking to people who are thinking about making a change– creating your own schedule, taking on as many clients as you want, and making a lasting impact with families. Feel free to reach out to me ([email protected]).
How far in advance of the birth should prospective parents begin to work with you?
Ideally, as soon as people know they want a doula. Some people reach out as early as 12 weeks and most reach out in the second trimester. I find it helpful to establish a relationship over time and also be available to support clients throughout their pregnancy.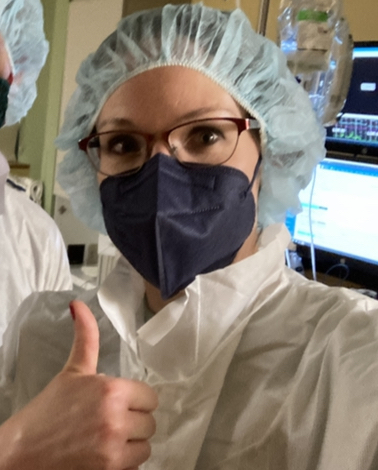 Can you gift doula services to new parents?
Yes! Right now, the supply chain is making it hard for parents to get cribs and baby supplies when they need them. Doulas can't help you get your crib sooner, but we are here, ready to support growing families. There are over 700 doulas in Massachusetts, so there is a doula for everyone.
If you're an expectant parent, you can share a digital link to your doula invoice on your baby registry so that loved ones can contribute.
If you're a loved one looking to gift services, you can reach out directly to a doula! We have gift cards for our services.
The Flourish Fund or Be Her Village can help expectant parents create a registry of pre-selected care services.
Any tips for balancing work & motherhood?
No tips, but just reframing what balance looks like. I think of the quote, "There's no way to be a perfect mother and a million ways to be a good one." It can be easy to compare yourself to others and how they're navigating work and motherhood. Every mother is doing their best. I've been focusing on being a good mother rather than a perfect one. For me, this means trying to work against perfectionism, honoring multiple parts of my identity (motherhood being just one of them) and listening to my own children for feedback about what they need, rather than Google searching into a rabbit hole.
What is the best piece of mom advice you ever received?
Get away from all the noise of others' opinions and listen to your instincts.
What's your favorite thing to do when you need some "me" time?
Exercise/sweat: I used to run, but now I mostly do my indoor bike or some weights.
Paint my nails.
Get outside.
Watch light TV (Great British Baking Show, Below Deck, Workin' Moms)
This post is sponsored by Boston Area Doulas. Find them online at https://bostonareadoulas.com, on Instagram @ba_doulas or on Facebook @ba.doulas.