It's a new year, and many of us are looking for a fresh start. Or maybe we're just stuck at home in COVID quarantine and want to keep busy. Either way, home organization is on the minds of many moms right now, which makes it the perfect time to introduce Stoneham mom and professional organizer Kristtyn Beverstock!
Where are you from originally and what town do you live in now?
I grew up in the San Francisco Bay Area but have lived in Massachusetts since 2012. I currently live in Stoneham.
How many children do you have and what are their age(s)?
I have one daughter, and she is two years old. Fun but busy!
What's your favorite family activity on the North Shore?
We love visiting nearby farms and kid-friendly breweries. Smolak Farms is usually our go-to in the fall.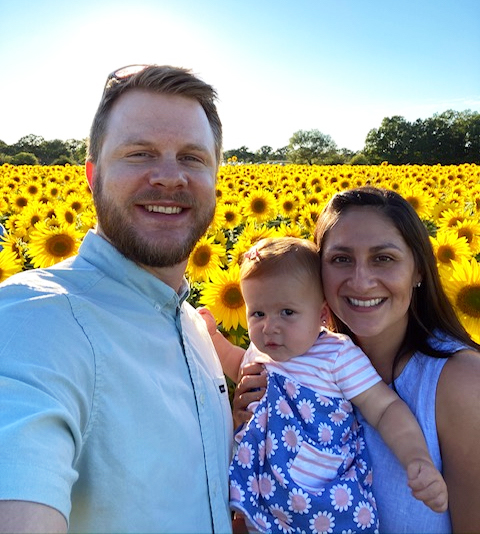 Where's your favorite place to eat and/or shop on the North Shore?
The Stones Common House & Kitchen is right around the corner and we love the ability to walk down. However, we recently discovered The Baldwin Bar at Sichuan Garden. Amazing food and cocktails. For shopping, I love popping into The Merry Lion when I need a gift for kiddos or for my daughter.
Tell us a little bit about your background and how you came to start Balmoral Home Organization.
I have always loved organization and did it for family and friends for years. However, I was very academic minded and didn't think about making it a career, so I continued on to become an Occupational Therapist (OT). I began Balmoral Home Organization in 2019, but shortly after found out I was pregnant and put it on hold. Due to the pandemic, I became a SAHM and had time to reflect on what I wanted my work life to look like. In April 2021, I decided it was time to start and dove in.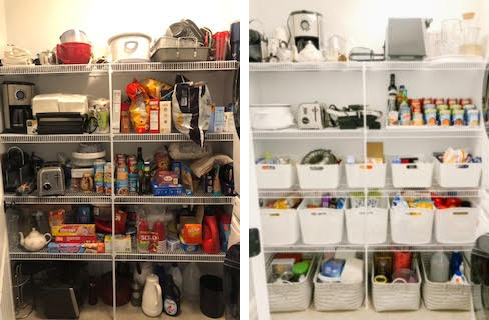 What's your favorite part about being a professional organizer?
Just like with my role as an OT, I love helping people see their homes through a different lens. It brings me so much joy to see the final product and to see my clients realize that they can breathe easier in their own space because they don't have to worry about constantly tidying up.
What are some of the most popular services that you offer?
I would say kitchen and pantry organization is very popular. Which makes sense, as the kitchen is the hub of the home. Everyone was doing so much cooking during the pandemic, I think it really brought to light how important this space is!
What do you see as the biggest benefit of an organized space?
When your living space is in order, it allows you more time and energy to dedicate to the things that really matter.
January is a popular time for decluttering and organizing. Can you share some tips to help busy moms get started?
Start small! As a mom, I totally understand wanting to get everything done right away, but this can quickly become overwhelming. Pick one space that is really bothering you and set your timer! A junk drawer or kitchen counter can take you less than 10-15 minutes. When you have a little more time, go for your dresser or bathroom cabinet. I also cannot stress the importance of purging.
Is your own home completely organized?
I laughed out loud because as a parent to a toddler, my house can go from tidy to a mess in a second. Before I became a parent, I would say my house was 90% organized. With children, your needs are constantly changing. I have had to readjust as things such as bottles, play mats, high chairs, sippy cups, etc. have come in and out of use. However, I have systems in place that allow me to get things back in order very quickly.
Any tips for balancing work & motherhood?
This is my own goal for 2022. I dove head first into running this business while trying to keep my OT career going and still having my daughter at home with me most days. I would say outsource where you can – I love to organize but hate cleaning so that has been one area where I bring in support. I also think writing down or creating a vision board of what you want to accomplish is helpful for staying focused. At the end of the day the most important thing to our kids is spending quality time with them. They will not remember if you cooked from scratch or if the floors were mopped. So let those things go and know that you're doing your best.
What is the best piece of mom advice you ever received?
"You are the best mother for your child. " I forget where I read this quote but it really resonated with me. It is so easy to compare yourself but there is only one you.
What's your favorite thing to do when you need some "me" time?
Top of the list is all things Bravo. I also enjoy reading, taking a long shower, or just going for a walk on my own and listening to podcasts.
This post is sponsored by Balmoral Home Organization. Find Kristtyn on Instagram @balmoralhomeorganization.