Address: 18 Bearskin Neck, Rockport, MA
Owner: Rusty & Ingrid Kinnunen (Learn more about this husband and wife team in this interview from last year.)
I headed to Rockport last week and had a great morning, strolling down Bearskin Neck and enjoying the beautiful, seaside scenery. You may be familiar with Rusty and Ingrid's Screen Print shop at 8 Bearskin Neck, but on this day I was visiting their newest location, Rusty and Ingrid Art & Supply, located just a few shops down in the coziest, seaside shack.
This shop contains some of their iconic screen prints, but is primarily filled with art supplies for all ages. Rusty and Ingrid decided to open an art supply store after seeing how many of Rockport's visitors were inspired to create their own art.
The store is divided into little sections with really lovely watercolor sets in the front, chic office supplies in the middle, a cabinet filled with vintage cameras and then a section for kids and paint in the back. The Rusty and Ingrid team selects high-quality art supply brands that are accessible to both beginners and more experienced artists.
Rusty and Ingrid Art & Supply Store Manager Rosemary, who is a talented artist herself, excels at putting together gift sets and there are some in nearly every category. All are thoughtfully pre-packaged and ready to put under the tree. She was kind enough to walk me through some of their most popular gifts this year. Keep reading to get the motivation you need to tackle the rest of your holiday shopping list!
Gift Idea #1 – Watercolor Sets
These sets are available in four color palettes, and include a premium watercolor set from Art Philosophy, an Art & Supply watercolor paper block, a #4 round Princeton Neptune watercolor brush, and a natural elephant ear dabbing sponge, packaged in a giftable box.
Gift Idea #2 – Kids Creativity Marker & Pencil Set
This was the first time I had seen color changing markers and erasable markers. (Both are now wrapped at my house and waiting for my son to open on Christmas morning…I just couldn't resist!). But this cute, boxed set, pairs them with fluorescent colored pencils and a sketch book. This gift could really be fun for all ages!
Gift Idea #3 – Katie Leamon Sketch Gift Set
If you're looking for fancy or instagram-worthy office supplies, look no further. The store is stocked with all sorts of lovely things, and this Gift Set includes many of them, with the prettiest pastel pencils, pebble erasers, sketch book, pencil sharpener and a handmade canvas utility roll to keep everything organized.
Gift Idea #4 – Kids Whale Watercolor Set
This set is whale-themed an includes a tin of watercolors and paper to create a Rockport-inspired, seaside masterpiece or anything else your kids love to paint. Would also be great for taking on a trip!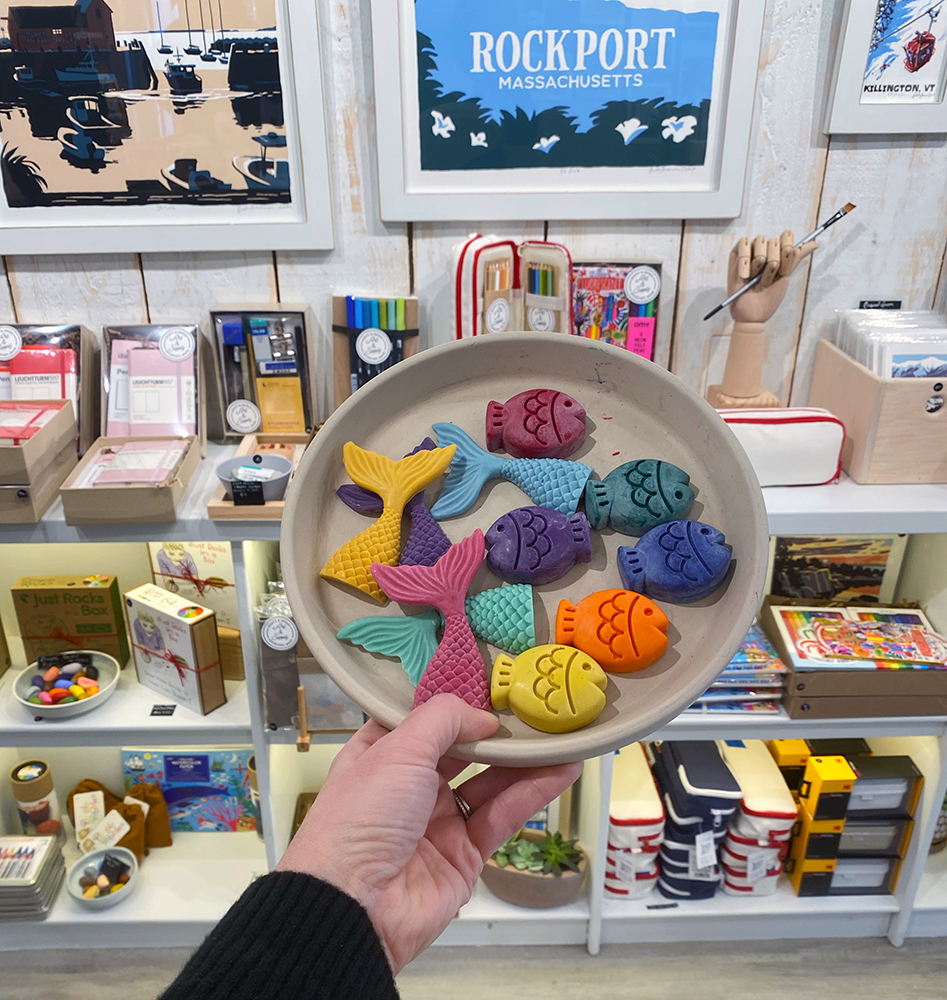 The cuteness of this shop makes it well worth the trip to Bearskin Neck. The gifts inside are thoughtful, fun and great for all ages. You can also shop online at rustyandingridartandsupply.com and North Shore Moms can save 10% off any order with code NSMOMS. (Works in-store too!)
Rusty and Ingrid Art & Supply is open daily from 11am-5pm for December, except Fridays, when they are open until 8pm for special, holiday shopping nights in Rockport. After the holidays, the hours will change to weekends only. You can also temporarily find more of Rusty and Ingrid's screen prints and framed prints in this store for one-stop shopping.
Don't miss Rosemary talking a little more about some of the products featured here at @thenorthshoremoms on Instagram. And follow the store at @rustyandingridartandsupply on Instagram and @rustyandingrid on Facebook to keep up with new product arrivals, store events and more. Plus stay tuned for details on adult art classes coming to the shop in winter, including drawing, watercolor, photography and more!
…
This post is sponsored by Rusty and Ingrid Art & Supply, but all of the opinions featured are my own.