Address: 118 Washington Street, Marblehead, MA
Owner: Jami Reyes (Learn more about Jami in this Meet a Mom Interview from 2020.)
I first discovered Hip Baby Gear, in Marblehead, 5 years ago, just before my son was born. They were the only store around that was stocking the Bumbleride stroller I was in search of, so I went to check it out and was pleasantly surprised to find a store full of high-quality baby gear. Shortly after my visit, Jami Reyes and her husband bought the store from the previous owner and they have expanded the product offering to include all the best baby gear, plus clothing, toys, books, puzzles, and personal care items too!
I went to visit Jami and Magda, from the HBG team last week, and got a tour of their most popular holiday gifts. Most of these items are actually things I have bought and loved for my son over the years, so I know from experience that they make good gifts!
Gift Idea #1 – Learning Tower
My son had a Learning Tower like this, that he used from 15 months to 5 years old. This is such a versatile gift that will last for years to come. The idea is that it raises the child up to counter height, enabling them to participate in activities in the kitchen. My son helped me bake and chop at our kitchen island or we sometimes brought it over to the sink for water play. He also liked eating meals in it, since it offered more freedom of movement than being strapped into a high chair. Hip Baby Gear has accessories for the Tower including the Developmental Board and Learn and Share Easel.
Gift Idea #2 – Pikler Triangle and Slide (Combo Set)
The Piker Triangle and Slide is another hot gift that can be used for several years. This is the first time I have seen one of these in a store, mostly I have just seen them on Etsy with costly shipping. The Combo Set includes a slide that hooks on to the rails or flips over to a climbing ramp. This version is also adjustable to three heights and folds for easy storage. If you get both this and the Learning Tower, you can connect them with the ramp to create additional play structures. These pieces are great for keeping your little ones active indoors during cold or snowy weather. (A big thanks to Grey for demonstrating!)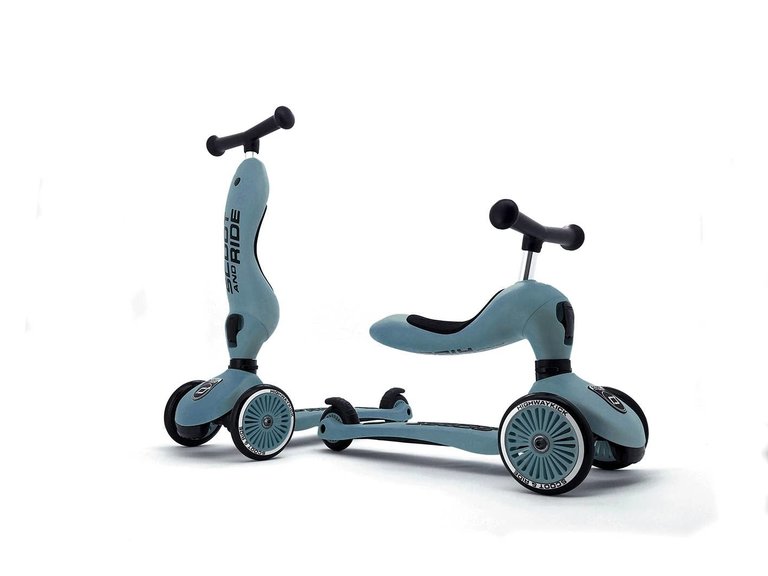 Gift Idea #3 -Scoot and Ride Highwaykick
Jami and Grey are both big fans of the Scoot and Ride Highwaykick and I can see why. Your child can use it in sitting mode from ages 1-3 or upright, in the scooting mode, from ages 1-5. This looked easy to steer with two front wheels and one back for added stability.
Gift Idea #4 – Winter Gear
Hip Baby Gear has a great selection of winter gear for kids, with these adorable dinosaur and unicorn snowsuits up to size 6T. Add mittens, a hat, and boots and your child will be all set for outdoor fun this winter. A pair of these dinosaur gloves will be under the tree for my son on Christmas morning!
Gift Idea #5 – Stocking Stuffers
The store has two large walls that are filled with feeding essentials and also personal care items for little ones and moms. Choose from a fun bib; bath toy; or diapering, nursing, or grooming item from several trusted brands.
Bottom line: Hip Baby Gear has great gifts for babies, toddlers, kids and moms too (this was just a small selection). By shopping at this Marblehead small business you're also supporting a mom-owned business and a black-owned business. If you can't make it to Marblehead you can shop online at www.hipbabygear.com. Standard shipping is free for orders over $75. In-store pick-up is also available along with local drop-off for the towns of Marblehead, Swampscott, Nahant and Salem.
Don't miss the HBG team and their adorable little boys, demonstrating some of the products featured here at @thenorthshoremoms on Instagram. And follow the store at @hipbabygear on Instagram and @hbgboutique on Facebook to keep up with new product arrivals, store events and more.
…
This post is sponsored by Hip Baby Gear, but all of the opinions featured are my own.