We just moved into a new house and in some rooms our old furniture is just not doing the trick. Our main bedroom, for example, is much larger in the new house, but has a long, narrow layout. On the positive side, it also has tons of windows to let in natural light, but all the windows make it hard to position furniture. I was feeling kind of stumped by the layout so I referred back to some of the lessons in the How We Haven Design Academy. I took the Design Academy Bootcamp when it first launched, earlier this year, and loved it!
The How We Haven Design Academy is a 6-week, self-paced digital course. In the course, Lyndsay and Wendy, two fellow moms and sisters-in-law, walk you through how to design a room from start to finish. I followed their course to design another bedroom, and found their approach to be super-easy to follow and helpful. After you take the course once, you have lifetime access, so you can refer back to it when you want to tackle other rooms in your house. I also liked the course so much that I agreed to become an affiliate. So if you are interested in learning more about the How We Haven Design Academy (or signing up) use this link and I'll earn a small commission (at no additional cost to you).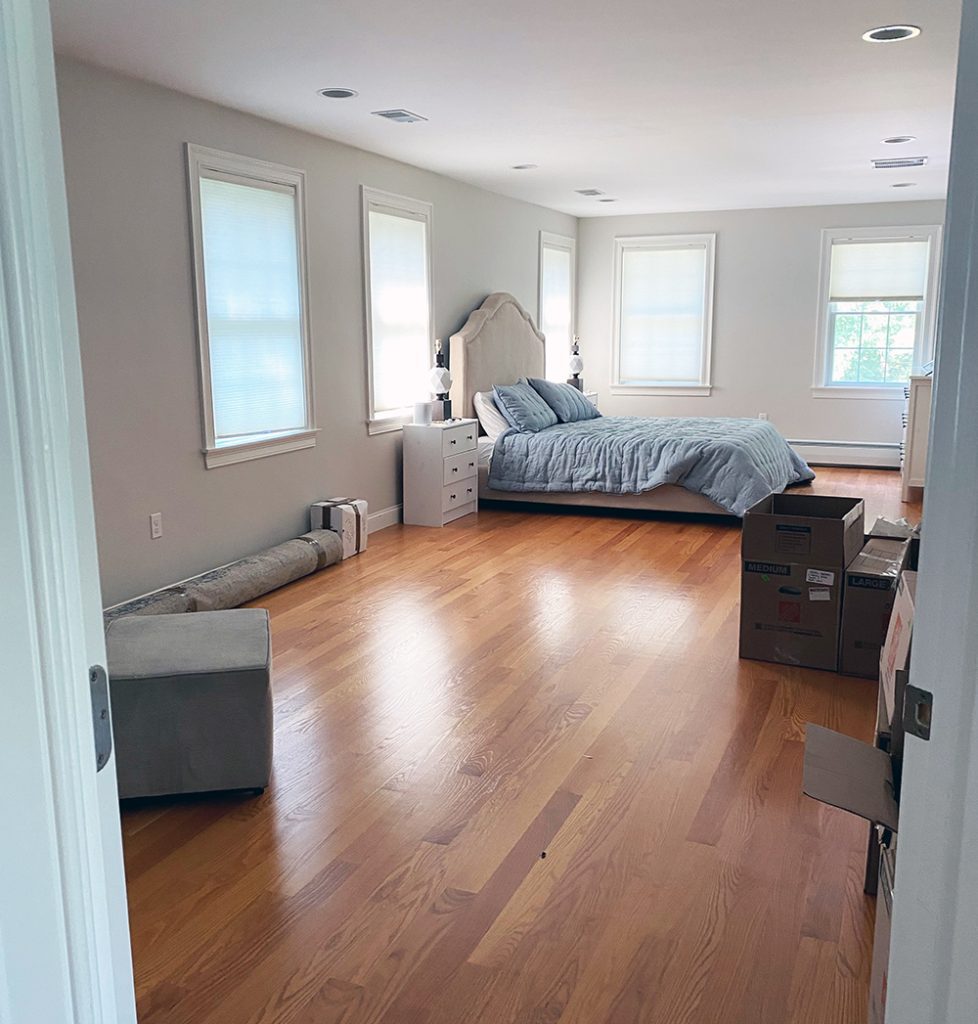 So, back to my current bedroom. First, I needed to determine the function and needs of the room. Primarily it's for sleeping, but there's also enough room for a sitting area and sometimes I watch TV in here at night if my husband and I want to watch something different (a.k.a I'm watching The Bachelor and he's watching a documentary). I just needed some guidance on how to best lay it out. This is where I brought in the help of Wendy and Lyndsay. During the Academy, if I had a question on my specific room, I could post it to the private Facebook group, talk about it on the weekly Zoom calls, or email it to them. In this case, I sent them a video tour of the room and some photos and they responded with this fabulous mood board along with some tips and tricks for making this room feel more cohesive and like a space I would want to spend time in.
Design Tips From How We Haven
These tips are specific to my bedroom, but can be useful for everyone and also, give you a great idea of how helpful Wendy and Lyndsay will be if you choose to participate in the Design Academy!
Add Crown Molding – It will create a classy and elegant feel at low cost! One tip we give is, don't buy "extra stuff," start with woodwork for the added interest and home value.
Get INSIDE Mount Roman Shades – We love all the windows and feel drapes are a NO-GO because of their proximity to each other in the room. So our recommendation would be to get inside mount roman shades…something soft and neutral to soften the space.
OR…Add Faux Outside Mount Roman Shades – Keep current blinds, push them up flush and add faux outside mount roman shades. They will not function, but you already have blinds inside. The faux roman shades are a FRACTION of the cost and will look like they function. They will also soften the space and make it feel cozy. (Etsy is a great place to get faux roman shades.)
Mount the TV to the right of the dresser area. We suggest a long retractable arm so it can function for both the sitting area and bed area.
Add a Sitting Area – We see a sitting area to the left when you walk into the bedroom across from the television. Our vision is two neutral chaise chairs with a round table in between them.
Add Wood Tones to Create Warmth – We suggest wood elements in a coffee table and/or round table between the two chairs as well as lamps with a wood base.
Add a Second Coordinating Rug – We love the idea of having them feel similar to each other but don't think they should be the same. Place one rectangle rug under the bed and one in the sitting area.
Install a Light Fixture in the Sitting Area – This will help define the space. After you get furniture set in place, add the fixture to get the location right. We see it over the two chairs.
If you're looking for some tips and tricks for your home, be sure to check out The How We Haven Design Academy ASAP! This is the last day to enroll and doors close at midnight on Thursday, September 23, 2021.
…
This post contains affiliate links.