Today I'm thrilled to introduce Sharon McEntee, a North Reading mom and owner of Embody MedSpa. Sharon started her business when her kids were little and in her interview she shares more about Embody along with great advice for moms trying to balance work and motherhood. Keep reading to be inspired by Sharon!
Where are you from originally and what town do you live in now?
I'm originally from Dedham, MA and I currently live in North Reading. I moved to North Reading in 2016.
How many children do you have and what are their age(s)?
I have 3 children: Charlotte (11), Phoebe (9) and Austin (4).
What's your favorite family activity on the North Shore?
In the summer, we love the beaches in Gloucester! You will find us at Good Harbor and Wingaersheek beach every chance we get. In the spring and fall, we enjoy taking hikes through Ipswich Wildlife Sanctuary.
Where's your favorite place to eat and/or shop on the North Shore?
I'll be honest, with our crazy schedules we don't get out all that much! I do a lot of online shopping and try to support local women-owned businesses as much as possible. But I do love MarketStreet in Lynnfield as well as downtown Newburyport.
Tell us a little bit about your background and how you got started as a clinical aesthetician.
I've been a licensed medical aesthetician for just about 25 years with extensive experience working in medical spas and prominent dermatology practices in both Miami and New England. I received my aesthetic training from the Catherine Hinds Institute in Woburn, MA. I graduated from the University of Miami with a Bachelor's degree in Health Sciences and a concentration in pre-medical education. While earning my degree, I trained with Dr. Manjula Jegasothy, owner of the Miami Skin Institute and Clinical Associate Professor of Dermatology at the University of Miami. I love the medical aesthetics industry and feel privileged and grateful that I get to do what I love every day.
At what point in your career did you open Embody MedSpa?
I opened Embody MedSpa in early 2013. At the time, I had a toddler and an infant so it was not the best time to open a business. But circumstances at my previous employment forced me to take the leap and just go for it. It was scary and stressful but I knew I had to make it work. And here we are over 8 years later, thriving even through the pandemic.
Where is Embody located?
We are located at 315 Main Street, Suite 201 North Reading, MA. We are right on Rt 28, on the Andover line, conveniently located to most major highways.
What are some of the most popular services you offer at Embody?
At Embody MedSpa, we pride ourselves on offering cutting-edge technology with proven results by the most highly-skilled professionals in the industry. We offer classic spa treatments such as facials, peels, and microdermabrasion. Our most popular procedures include cosmetic injectables (Botox/fillers), Coolsculpting, and Hydrafacials. We are also a top New England provider of Morpheus8, a radio frequency microneedling procedure.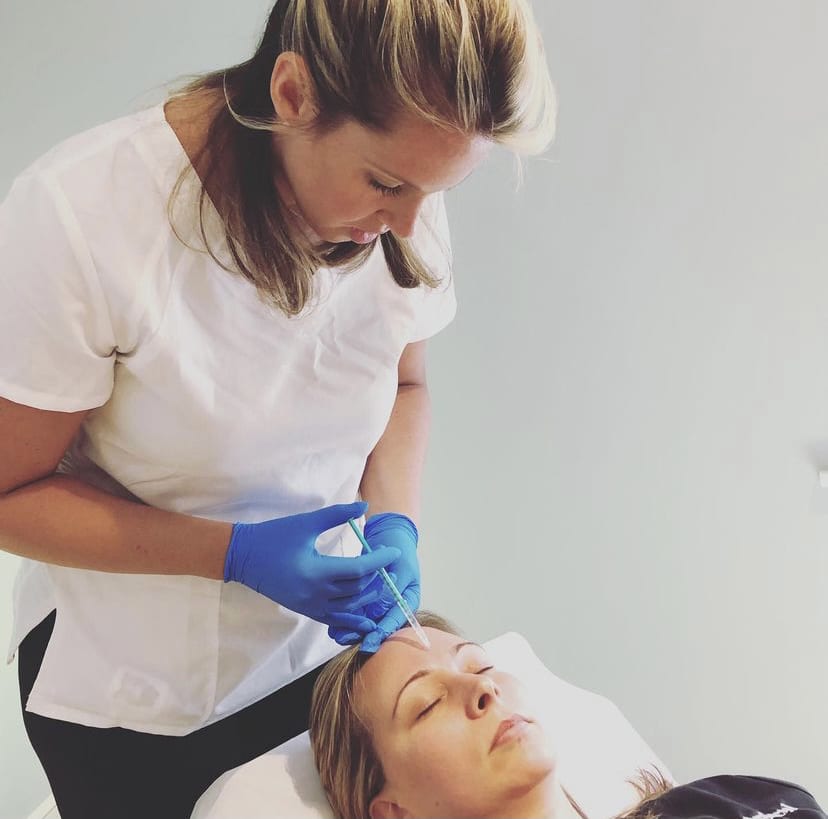 With Mother's Day approaching, are you offering any special packages or gifts for mom?
To celebrate all the moms out there, we have 2 amazing offers from now until 5/31/21.
Book a Hydrafacial between now and 5/31/21 and receive 20 units of Botox FREE!*
Cannot be combined with any other offer. Botox appointment must be scheduled no later than 6/30/21.
Book a Hydrafacial with your mother, daughter, friend and both of you receive 30% OFF!*
Cannot be combined with any other offer. Hydrafacials must be scheduled the same day and by 5/31/21.
As a mom yourself, how do you balance motherhood and work? Any tips to share?
I often feel like I'm being pulled in a hundred different directions and it certainly can be overwhelming at times. My husband and I work opposite schedules, which allows one of us to be home with the kids almost every day. I've also been able to design my schedule so that I work 4 long days instead of a traditional 5-day work week. I think as mothers we just have a natural ability to multitask too. I'm very scheduled and keep my kids on a schedule with respect to bedtimes, meals, cleaning, etc. I find that keeps the whole household organized and sane. I'm also extremely grateful for my staff at Embody MedSpa. They are so amazingly talented and professional, which alleviates a lot of the pressure I have at work. So as far as tips…create systems that work for you and simplify your life, and surround yourself with people who make your life easier and more enjoyable!
What's the best piece of mom advice you ever received?
There are 2 pieces of advice that I received as a mom that have always stuck with me. The first was from my mom when I was very pregnant with my first child and I was freaking out that I wouldn't know what to do or how to be a good mom. And my mom very calmly just said to me, "You'll just figure it out. You'll love that kid more than you could ever know and you'll just figure it out." And she was right! Even when I feel like we don't have the answer, somehow we just figure it out.
The second piece of advice was from a fellow female business owner with grown children. I was chatting with her about how hard it is to be a working mom because of the guilt you feel – guilt about not being home when you're at work, guilt about not working on the business when you're at home. And she said to me, without hesitation, "Enough of that sh*t. Think of the incredible role models your children have! You're showing them that they don't have to choose between a career and motherhood. They can do it all and be successful." And so I remind myself of that from time to time when I feel like I'm failing at motherhood or failing as a business owner, and remember that I am succeeding everyday because they are happy and healthy.
What's your favorite thing to do when you need some "me" time?
I love to workout. It keeps me sane and healthy and is a huge stress-reliever for me. And my kids get to see me taking care of myself which is so important. So I carve out time every day to exercise. It makes me a better mom and keeps me energized for my crazy life!
View a full list of treatments and services available at Embody MedSpa by visiting embodymedspa.com. You can also follow along with Sharon and Embody on Instagram @embodymedspa or on Facebook @EmbodyMedspa.
…
This post is sponsored by Embody MedSpa.