Kicking off the 2021 Meet a Mom Interview Series by interviewing myself! It's been a long time since I did an introduction so keep reading to learn more about me and how I started The North Shore Moms.
Where are you from originally and what town do you live in now?
I spent most of my childhood living in Pennsylvania and then moved to Charlton, MA for junior high and high school. My husband and I have lived in Middleton for 7 years.
How many children do you have and what are their age(s)?
We have one son, Cole, who is 4 and two dogs, Fenway, who is 14 years old and Doby, (a quarantine puppy) who just turned 1.
What's your favorite family activity on the North Shore?
Some of our favorite things to do are visiting the animals at Endicott Park, getting ice cream at Richardson's Farm, and beach days at Plum Island. In the summer and fall we also love going strawberry and apple picking. This year we went to Cider Hill Farm for both, but Brooksby Farm is also a favorite.
Where's your favorite place to eat and/or shop on the North Shore?
This is a tough question, because I have discovered so many great shops and restaurants through writing The North Shore Moms. It's hard to pick a favorite, but in the last year I have been reading more and have loved getting my books from The Bookshop of Beverly Farms. Hannah has a great selection and does curbside pickup.
I also just worked with Emily, at Nazir's Fine Jewelry in Wenham, to design a custom pair of beautiful, everyday earrings that my husband gifted to me for my 40th birthday last week. Her customer service was incredible!
Sol Bean in Middleton is my go-to take out restaurant. I love their salads, bowls and smoothies.
Tell us a little bit about your background and how you started The North Shore Moms.
I have a background in marketing and before my son was born I was fortunate to have the opportunity to start my own business, a mobile boutique that sold accessories, jewelry, home goods and more…all made by small batch artisans. If you've noticed a lot of small business promotion here during COVID and even before that, it's because I know firsthand how tough running a small business can be.
When my son was born, my business was 2 years old and still getting off the ground. My husband was commuting daily to Boston and I had a difficult time balancing my childcare needs with running the business. Ultimately I closed the business after Cole's first birthday. I love being a stay-at-home mom. I only ever wanted to have one child, so having the opportunity to spend so much time with him before he goes to school is wonderful. But like many stay-at-home moms, I was missing the daily connection with other grown-ups. When I discovered The Local Moms Network, I knew a hyper-local site for Massachusetts' North Shore would be a great fit and I signed on with them to start it.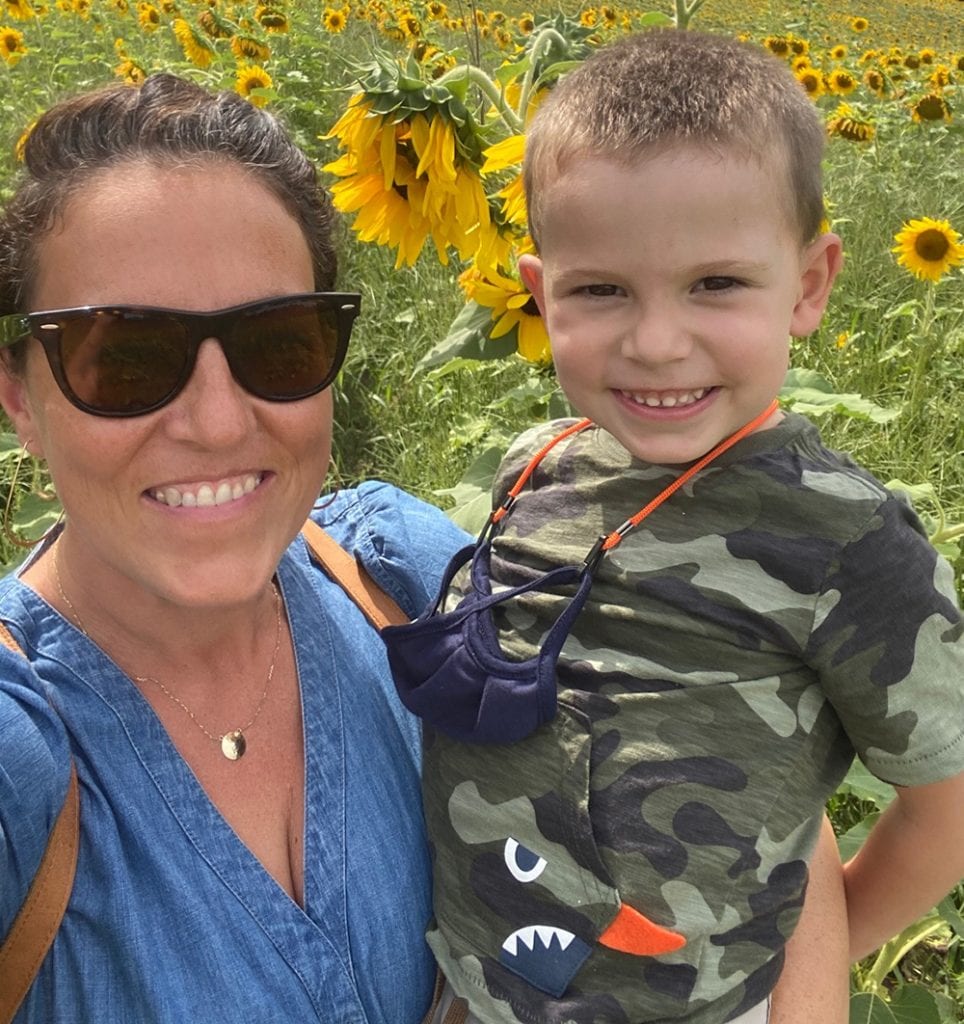 What's your favorite part about running The North Shore Moms?
Running The North Shore Moms is something I enjoy doing because it allows me to connect with other moms in the area, learn about fun family activities and discover new shops, restaurants and more. It also gives me the flexibility to keep a little bit connected with the work world while still focusing on being a stay-at-home mom.
And I like making lists…which you'll see a lot of on The North Shore Moms. I don't so much like sharing photos or videos of myself, which I know is not the best way to build a following on social media. But my goal for this site and it's social accounts is to share information that moms in this area find valuable and I thank all of you who are reading this and following along for caring about this content and telling your friends!
What towns does The North Shore Moms cover?
I started the site in September 2019, covering 12 towns: Beverly, Boxford, Danvers, Essex, Hamilton, Ipswich, Manchester-by-the-Sea, Middleton, Peabody, Salem, Topsfield and Wenham. Since then I have continued to feature business and events from these towns and many more of the surrounding ones.
I would love to be able to keep tabs on every single town that identifies as North Shore, but I'm just one person, so right now that's not possible. But if you're a mom who lives in another North Shore town and know of a great event or activity, please DM or email it to me at [email protected]. I really appreciate receiving these messages!
What types of content can moms expect to find here?
The North Shore Moms features local activities, businesses, a monthly events calendar and interviews with local moms. We are also part of the nationwide Local Moms Network and often share content created by national partners, such as recipes, interviews and articles on parenting topics.
How can local businesses get featured on The North Shore Moms?
The North Shore Moms is a small business that I earn revenue from by paid partnerships with local businesses. So businesses can advertise with us. (These posts are always marked as paid either with a note at the bottom of the blog post or a hashtag of #partner, #sponsor or #ad on social media.)
Local moms and business owners can also reach out to be interviewed for our Meet a Mom series. This is limited to just a few moms a month, and I strive for variety in business type. So please note that I can't publish interviews with everyone who asks, but I'm always happy to consider moms.
North Shore residents with specific knowledge of a topic that would appeal to the moms, for example: best hiking spots with kids, how to know if your child needs speech therapy, and recipes (I love recipes!) can also be featured as guest posters on our site. To talk about any of these opportunities, just email me at [email protected].
What is the best piece of mom advice you ever received?
Don't eat the leftovers off your kid's plate! And, you can't buy your way out of a tough time. My son was a terrible sleeper as a baby and young toddler. I have bags under my eyes that may never go away, and I bought every, single, thing (Dock-a-tot, Merlin suit, Ready to Wake Clock, etc, etc) I could find online that people said helped their kids sleep. Eventually he grew into a great sleeper, who sleeps 11-12 hours a night and it had nothing to do with anything I bought. (Although in hindsight, I probably should have just spent that money on a sleep consultant!)
What's your favorite thing to do when you need some "me" time?
Yoga, drinking coffee quietly while it's still hot, reading and visiting my happy place: Peaks Island, Maine.