Today's guest post is from Ipswich mom, Danielle Ford. Danielle has three young sons and knows a thing or two about sensory play as the owner of Let Them Eat Cake & Play. In this post she shares easy sensory activities you can set up at home for kids of various ages. Keep reading for ideas!
As a kindergarten teacher turned stay-at-home mom to three active boys (6, 4, & 2), it's pretty safe to say I know a thing or two about play! Sensory play in particular is a favorite at our house and something all three of my kids enjoy and love. It's fascinating to watch them explore through this very *simple* form of play: no batteries required.
What I love most about this type of play is that it can pretty much be anything and everything.  Any activity that stimulates one or more of your child's five senses- touch, smell, taste, sight, and hearing. You can turn almost anything into a sensory experience: digging in the sand, eating an ice cream, and even taking a bath! Our senses allow us to gain information across multiple body channels, increasing our ability to learn, problem solve, create and imagine. When you expose your little one to different sights, sounds, smells, textures and colors, they naturally learn about the world around them.
What Are The Benefits of Sensory Play?
When you think about early learning and brain development, the very first thing that should come to mind is PLAY! Now, more than ever, we need to take *some* of the pressure off ourselves and breathe in the simple nature of *sensory* play and all that it has to offer:
Enhances creativity, imagination and self guided exploration

Provides cognitive growth and higher order thinking while strengthening sensory related brain synapses and functions
Promotes speech/language development with the use of descriptive words (wet, dry, soft, bumpy, smooth, shiny, sticky, etc.)
Develops social interactions – children work together, play together, solve tasks and problem solve
Strengthens fine motor skills with the use of playful (and often non-conventional) sensory tools – pinching, grasping, pouring, scooping
Can regulate emotions/behaviors/anxiety and bring a sense of calm to a child experiencing big emotions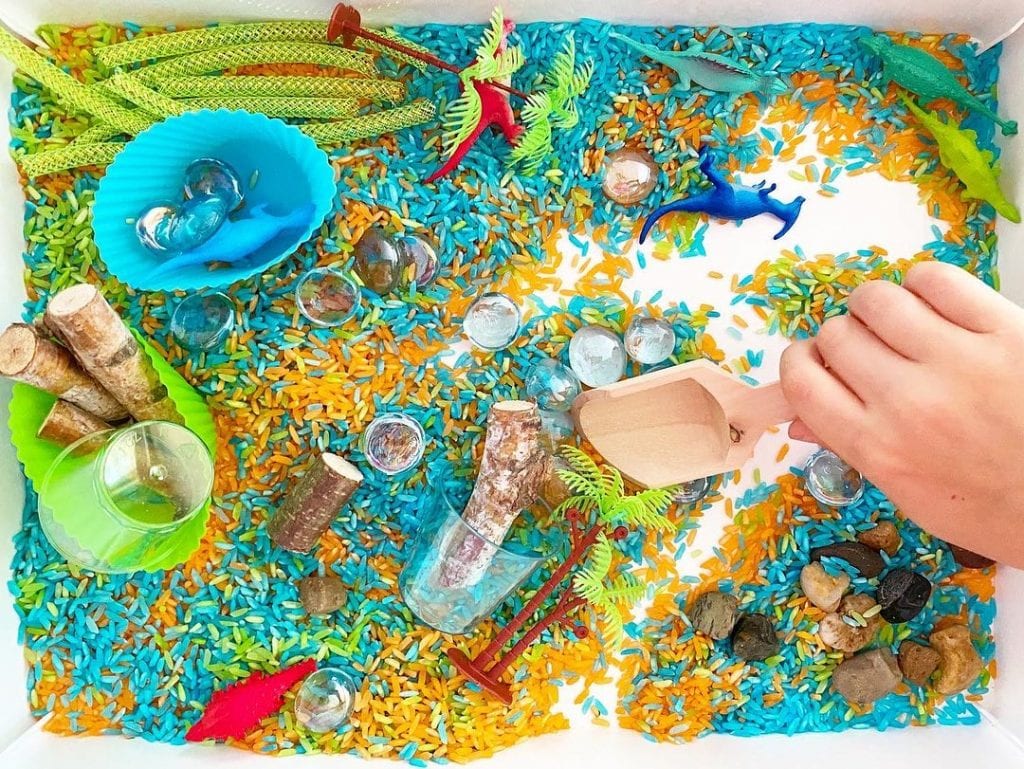 Sensory Play for Preschoolers and Beyond
If you're ready to expose your little one to the many therapeutic and developmental benefits of sensory play, setting up your very own sensory experience at home doesn't need to be overwhelming. In fact,  it's as easy as 1, 2, 3! First, find a bin, a box (or even a tray!). It can be more elaborate – similar in size to a water table – or something more simple like a shoe box.

Next, choose a theme and go with it! Change up the textures, materials and colors. The possibilities are endless. Think about anything (and everything) that might appeal to your child's senses and start gathering materials. Lots of everyday items can be reimagined and thrown into the mix (some of which you may even have on hand). A few of our favorite non-food sensory fillers include: uncooked rice, dried beans, felt balls, colored sand and cooked spaghetti. You may think it all sounds silly, but everything is a treasure in the eyes of a child. You can step up the sensory experience a bit more by adding a pop of color with food coloring (rice & pasta are so easy to dye), themed toys, trinkets/loose parts, containers for collecting, and tools for scooping and mixing.

Before you let your child dive in, it's always a good idea to set up a few rules and guidelines. Use this opportunity to teach, model and practice appropriate sensory bin use and your little one will be on track for more advanced sensory play down the road. You should be prepared for (and okay with!) a little mess but rules are helpful when explaining what's acceptable and what's not: keep materials inside the sensory area, pick up anything that falls, clean up when finished, etc.
Baby/Toddler Friendly
Don't forget about baby! All children, regardless of age, are naturally curious about the world around them.  While sensory exploration at this age (0-3) looks a little different from that of an older child, it still shares all of the same benefits. Babies and young toddlers are naturally curious about the world around them and learn by doing and seeing. Once you provide the activity, it's time to play, interact and engage with them! This is where the magic of sensory play really starts. Creating a safe, sensory experience for your baby or toddler can seem like a daunting or scary task, but it doesn't need to be!  Here are a few tips and tricks for introducing baby to the wonderful world of sensory play:
Use safe/age appropriate materials

No small/loose parts- We use the toilet paper roll method. If it falls through the hole..its a no go!
Teach, model and practice appropriate sensory bin use and play- for more advanced sensory play down the road
Supervise, interact & engage with your child during playtime
When in doubt, you can always throw everything into a sealed bottle!  Plastic sensory bottles are a great option for safe & mess-free exploration. They can be used for basic discovery or as a sensory tool to soothe and bring a sense of calm to a child experiencing big emotions. Different shapes, textures and colors to look at and the perfect size for busy, little hands to shake, rattle and roll.
Looking To Skip The Prep On Your End?
Do you love the benefits of sensory play but don't necessarily have the time, creativity or desire to put it all together yourself? Each one of the Let Them Eat Cake & Play Themed Sensory Kits provides multiple opportunities for play-based learning and sensory exploration.
Surprise the little ones in your life with one of our pre-designed sensory kits or customize your own by selecting favorite colors, textures, toys and trinkets. Promote creativity, ignite imagination and give the gift of play – without the prep. Perfect for birthdays, holidays or just because. They're only little once…so push up your sleeves, stimulate those senses and let them play (and eat some cake too!).
For available themes, DIY ideas, new products and more follow Danielle on social media (Instagram: @letthem_eatcake.blog & Facebook: @letthemeatcakeandplay. And be sure to share the creative new ways your kids find to play with sensory items by tagging Let Them Eat  Cake & Play! Shop kits at letthemeatcakeandplay.com.