The Wenham Museum is the perfect winter outing! You may have driven by this unassuming building, located next to the Town Hall in Wenham, many times and not realized what lays inside. Even from the parking lot, this museum looks tiny, but once inside, there's lots to do for all ages.
We recently visited with friends on a cold Tuesday morning. We had been before, and my 3-year-old remembered there were trains at the museum, but he had forgotten how much fun it was to act as conductor, pressing the buttons and peering through the glass to explore the scenes in The Bennett E. Merry Train Gallery. The gallery features six running layouts of model trains including a Salem to Newburyport line. The kids had the best time laughing as the trains went in and out of the tunnels in the various layouts.
Also downstairs was an exhibit in the Family Discovery Gallery inspired by Alice Schertle's book, Little Blue Truck. This exhibit offers hands-on, interactive play, exploring farm life and lending a kind and helping hand. We do have the books, but this exhibit didn't hold as much interest for my son as the upstairs exhibit titled, Frozen: Stories of Ice & Snow.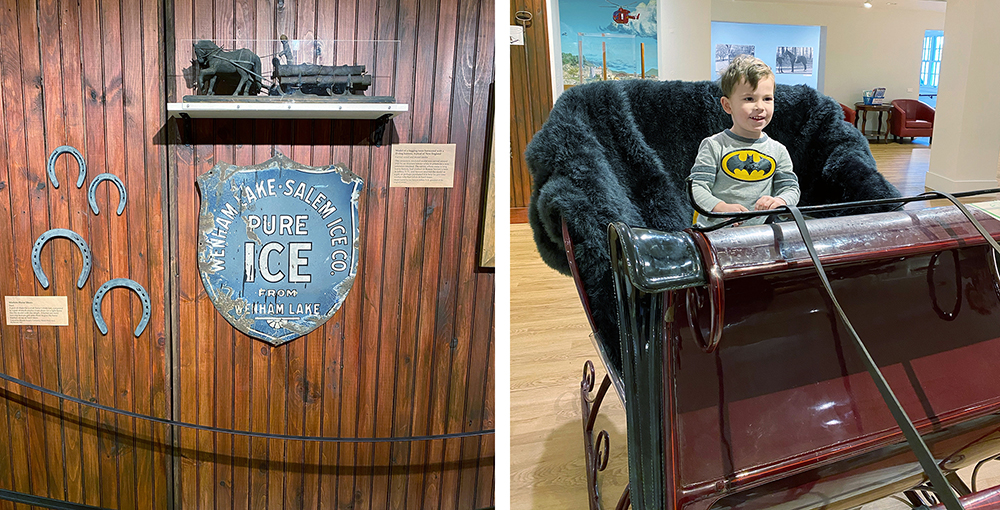 The Frozen exhibit included a sock skating rink, authentic one-horse open sleigh you could sit in, and a TV playing the opening song from Frozen along with a short film on historical, local ice harvesting. Every time "Vuelie" came on, every kid in the exhibit ran over and sat on the bench to watch!
But the real highlight of this exhibit, was the kid-sized ice house that you could pack with blocks of "ice," even using real ice tongs!
There's also a snack area in the Museum, located just off the entrance, where we've finished our visit both times. And next to that is a small, but well-curated gift shop, that includes all sorts of train toys, puzzles and interesting book titles.
Annual memberships to the museum are available, starting at $55. Day passes start at $8 and you can also save 50% off your visit using some local library memberships (more details here).