We were introduced to Julianna Curtis by another mom we featured earlier in the fall, Lauren Dalis. And we're so happy to have connected with her! She's not only a busy mom of 2, but also finds the time and headspace to run 4 local fitness studios, named The Energy Barre. Her interview responses are really thoughtful and she shared one of our favorites of the year, when we asked her what the best piece of mom advice she's ever received was. Keep reading to learn more about this awesome mom!
Where are you from originally and what town do you live in now?
I am originally from Danvers and now I live in Stoneham with my family. I'll always consider myself a North Shore Girl!
How many children do you have and what are their age(s)?
My husband and I have two boys, Lennon is 4 and Bodhi is 9 months.
What's your favorite family activity on the North Shore?
We really love a free-form day in places where our oldest can be wild…we love to spend time at Good Harbor Beach, Lynch Park and Endicott Park. A lot of times our family days are spent in the studios, it's nice for the kids to be involved in what we do, so The Energy Barre Beverly is also one of our favorite North Shore family spots.
Where's your favorite place to eat and/or shop on the North Shore?
Our very favorite place to eat is The Stone's Common House and Kitchen – it's our first choice for date night or family dinner, it's got a really great vibe and incredible food! I also spent many years scooping ice cream at Cherry Farm Creamery, and it will always be my favorite ice cream shop!
What's one thing people would be surprised to know about you?
Hmm. People might be surprised to know that I like to keep my feet on the ground – meaning, I am far less adventures than someone might assume! For example – my very favorite fall activity is the Topsfield Fair, but I don't want anything to do with the rides. My oldest is braver than me though, so I'm finding that I have to become a little braver myself.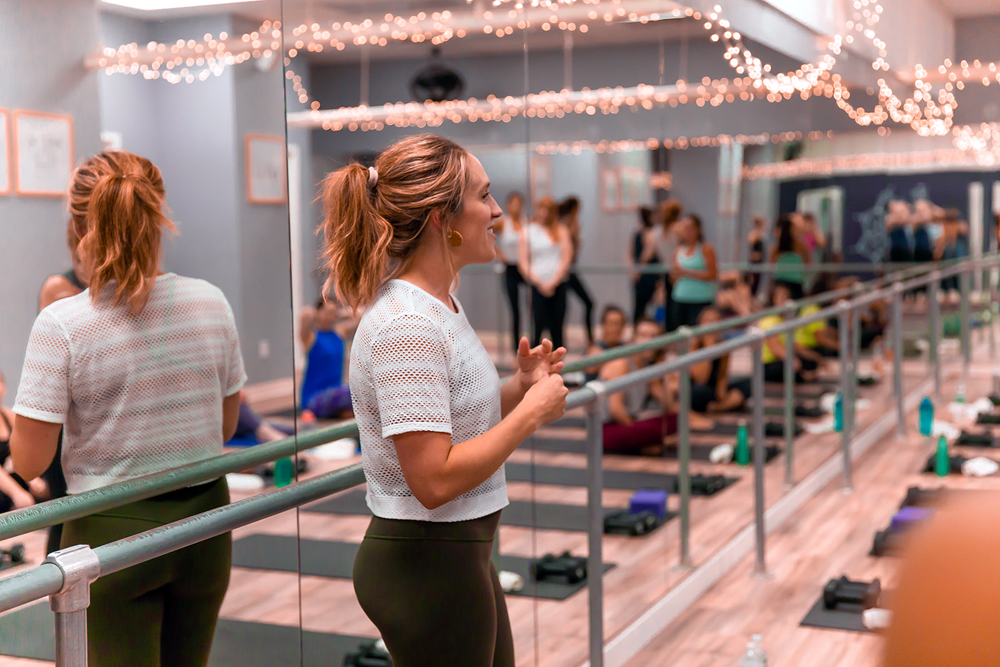 You are the owner of The Energy Barre – a fitness studio with four Massachusetts locations! Tell us more about your background and how you came up with The Energy Barre concept.
I am! I began teaching this style of fitness in 2010 and it lit a fire in me that really cannot be tamed. I've always been a mover – physical activity is just something I crave…when I discovered that I could match movement with personal connection and empowerment, I was determined to make that my life. My experience prior to opening The Energy Barre drove me to not only focus on the quality of classes, but the integrity and the energy of the business – to focus on how people felt when they would walk through our doors. The Energy Barre is a movement studio: our team delivers an incredible variety of class styles from barre fitness to HIIT, to cardio dance and yoga. The quality of the classes speak for themselves, but we're most proud of the energy, the community and the vibe of our studios: we provide a safe, body positive space where anyone can come to move toward their goals.
How does EB cater to local moms? Do you offer childcare, mommy and me classes, and/or prenatal classes?
We do! We aim to extend as much support as possible to anyone visiting our studios. For our mamas, that support comes in a number of forms:
1. We offer FREE childcare 6 days a week in both our Beverly and North Reading studios. The childcare providers are all members of our community; mothers, nannies, teachers and nurses who understand the importance of mama taking some time for herself!
2. We have an extensive schedule including classes as early as 5:00 AM and as late as 8:00 PM, so that mama can catch some "me time" whenever possible – sometimes that means sneaking out before the house wakes up, after the kids go to bed, or some borrowed time in between….we've got a lot of class times to choose from!
3. We offer mama and baby classes multiple times a week in both Stoneham, Beverly and Medford studios. This specific class is designed to safely and comfortably encourage a new mom to reintroduce a fitness routine, without the stress of leaving the baby. It's a well-loved option by all!
4. We have offered prenatal classes in the past and we plan to add this class to our North Reading schedule soon…but we spent the first six months of 2019 building an on-demand prenatal and postpartum fitness program through our online platform – The Energy Channel! We're really proud of it, and it has been well received!
5. We also have plans for some great workshops before the end of the year, including yoga and meditation for someone struggling with infertility.
Do you have a personal favorite class at EB?
Oh, that changes from day to day! It all depends on what my body and mind need. I suppose that is one of the greatest things about EB, you can always find what you need.
As a working mom and business owner, any tips for balancing work and motherhood?
Balance. After my first son, I think I would have been better able to answer this question. Today, nine months in with baby number two, the idea of achieving balance seems just as likely as reaching nirvana…potentially unattainable, yet still worth trying for! That might be dramatic, but daily at least, it's true. The best advice that I can give to someone trying to balance work and motherhood is to understand that a career and motherhood are both full time jobs. When you're thriving in one corner you've probably had to sacrifice in the other, and that is ok. Take a regular inventory of how you feel, and you'll know exactly what area of your life is in need of the big attention in that moment.
What is the best piece of mom advice you ever received?
The best thing anyone has ever said to me about being a mom is, "you're doing a great job" – unexpected pits of doubt and sleepless nights come up from time to time when I wonder if I am doing the right things for my boys. It's the greatest assignment of my life, and it can overwhelm me at times. I know I am not alone in that. Telling a mom she is doing a good job is probably the greatest compliment a person could extend.
What's your favorite thing to do when you need some "me time"?
This will not be shocking…take a class at the studio! Right now my "me time" doesn't come as frequently as it once did, but I know that will change, and I know exactly where to go when I get it!
You can find The Energy Barre in Beverly at The Cummings Center, 100 Building, Suite B20-D (181 Elliott Street); in North Reading at 197 Main Street; in Stoneham at The Dow Block Building, 4th Floor (5 Central Square) and in Medford at 65 Riverside Avenue.
Photos by @merissaroo, @jilldichiara, and @SHAREtheSOUL.