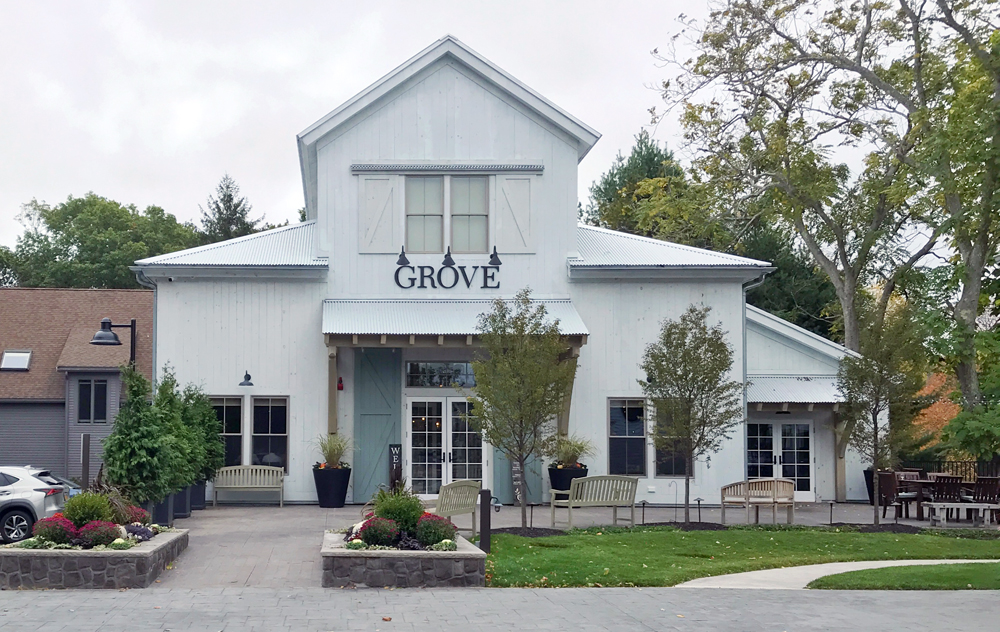 Rowley is part of the North Shore, but not one of the towns we regular cover here at The North Shore Moms. However a visit to their newest boutique hotel, The Briar Barn Inn, will make you feel like you've been transported away on vacation, no matter how nearby you live.
I first visited the Briar Barn Inn in September for lunch in their restaurant, Grove. I had some family members visiting from out of town and we spent all morning shopping at Todd Farm, before heading down the road for a delicious lunch. In addition to the food, I also enjoyed the vibe of the restaurant with it's rustic post and beam style and gorgeous farmhouse inspired decor choices.
The menu was full of upscale comfort food and we all enjoyed our orders: The Grove BLT, The Burger and The Cuban Sandwich. The drinks were equally good with local beers on tap and elaborately garnished bloody mary's.
During that first visit, we walked around the grounds a little and noticed that the Spa was still under construction, but due to open soon. So when I saw on Instagram a few weeks later that they were opening the doors I made an appointment for a pedicure.
The October day that I went for the service was cold and rainy. I was surprised by how small the Spa is, but it ended up being a cozy spot to spend a gray morning. I drank hot, peppermint tea and snuggled up in a heated neck wrap while Vanessa took care of my toes.
With the Spa being such an intimate place, I also had a chance to chat with the manager, Michelle, and you can really tell that she takes pride in every aspect of the spa experience. She has been with the Spa project from the start and worked on everything from the permits, to selecting the decor, to the products they use. She was super friendly and also gave me the scoop on Dazzle Dry Nail Polish–have you tried it? Lasts like gel but without the harsh chemicals or UV lights! In addition to manicures and pedicures the spa also offers massages, facials and lash lifts. I'll be going back for a massage soon!
The only aspect I have yet to experience at The Briar Barn Inn is an overnight stay in the hotel. But if you're a mom looking for a fun night away with your girlfriends, or a relaxing retreat by yourself and don't want the hassle of traveling far, this would be an ideal spot. It's got a luxurious feel and between the spa and the restaurant you could easily have a great day and night out.